Introduction: Tailored solutions for all
Every entrepreneur or business needs a website to promote their activities. However, the initial cost of designing, developing, and launching a website can be a major hurdle for some.
Fortunately, there is a range of financial assistance provided by the government to professionals, varying based on their respective eligibility criteria. For example, the French government has committed to providing a €500 grant to businesses most affected by the 2019 health crisis.
Local authorities, including departments, regions, and municipalities, as well as certain European programs, also offer aid schemes that facilitate obtaining funds for the digital development of small and medium-sized enterprises.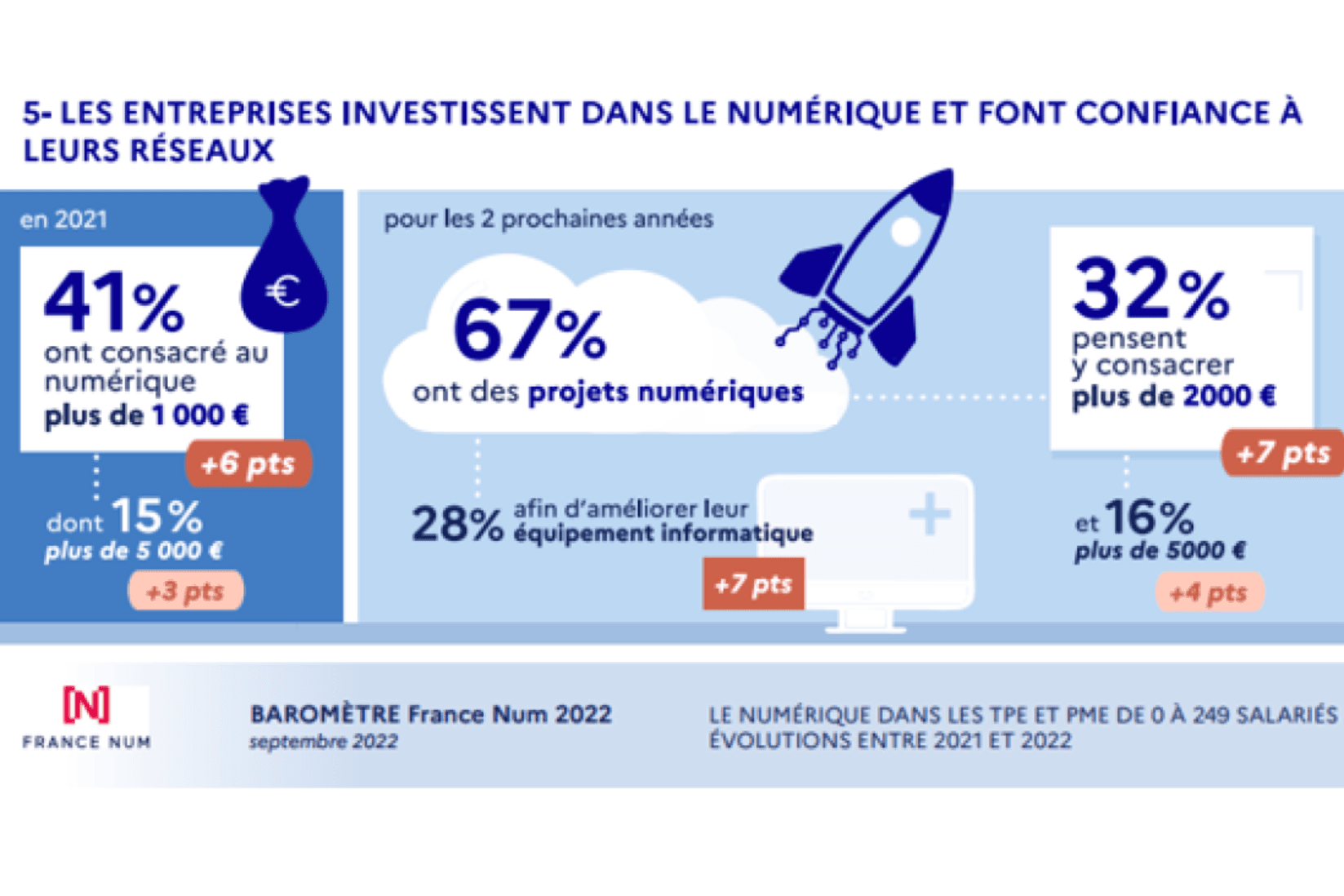 In this article, we address all your questions:
What types of aid can I benefit from?
What are the eligibility criteria?
What are the steps to follow?
French Government aids
Digital Voucher
The Digital Voucher is a financial aid designed to support startups and very small businesses (TPE) in their digital transition. It can finance consulting, training, or support services for the creation of a website, as well as the implementation of a digital marketing strategy, such as social media marketing and Search Engine Optimization (SEO).
The amount of the Digital Voucher is:
€500 for businesses with fewer than 11 employees;
€1,500 for businesses with 11 to 49 employees.
This grant can be combined with other loans and is disbursed upon presentation of the paid invoice. However, it's essential to inquire at the local level because this type of assistance is not available in all regions, and may have a different name depending on the applicant's location.
France Num Loan
The France Num loan is a scheme that funds the creation of a website, the implementation of a digital marketing strategy, or the purchase of computer equipment. The loan amount can go up to €100,000 with favorable interest rates.
To qualify for this loan, you need to:
Be a business with fewer than 250 employees;
Have an annual turnover of less than €50 million;
Be able to repay the loan.
European aids
The COSME program (Competitiveness for Small and Medium Enterprises) is the European program dedicated to the competitiveness of SMEs. It supports their creation, growth, and internationalization. It can cover activities such as exploring new markets, export training, or financing business missions abroad.
The eligible aids under the European COSME program can be found on the French European Funds portal. Depending on your department, you can learn about the European program you might be eligible for. You can then get in touch with the managing authority or directly consult the dedicated website.
Regional aids
Regional supports are put in place to facilitate the digital transition of businesses. This approach aims to expand their customer base, enhance customer loyalty, and optimize their operations through digital communication tools and software. Note that the allocated amounts and eligibility criteria vary from region to region.
A concrete example of this support scheme can be found in Île-de-France, where craft or commercial businesses with fewer than 10 employees can benefit from a digital voucher worth €1,500, covering 50% of eligible expenses related to the company's digital transition.
What financial aids are available for your business's digital transformation in your region?
Other aids and subsidies for your business' digitalization
Bpifrance Growth Loan for small businesses
Bpifrance offers the Growth Loan for small businesses that are over 3 years old and have fewer than 50 employees. This loan finances both material and immaterial investments, such as creating a website or purchasing software. The loan amount can go up to €50,000, with a repayment period ranging from 3 to 5 years.
To qualify for this loan, you need to present a solid and viable project, along with a detailed business plan. You can also seek guidance from a Bpifrance advisor in preparing your loan application.
Test your eligibility for this loan.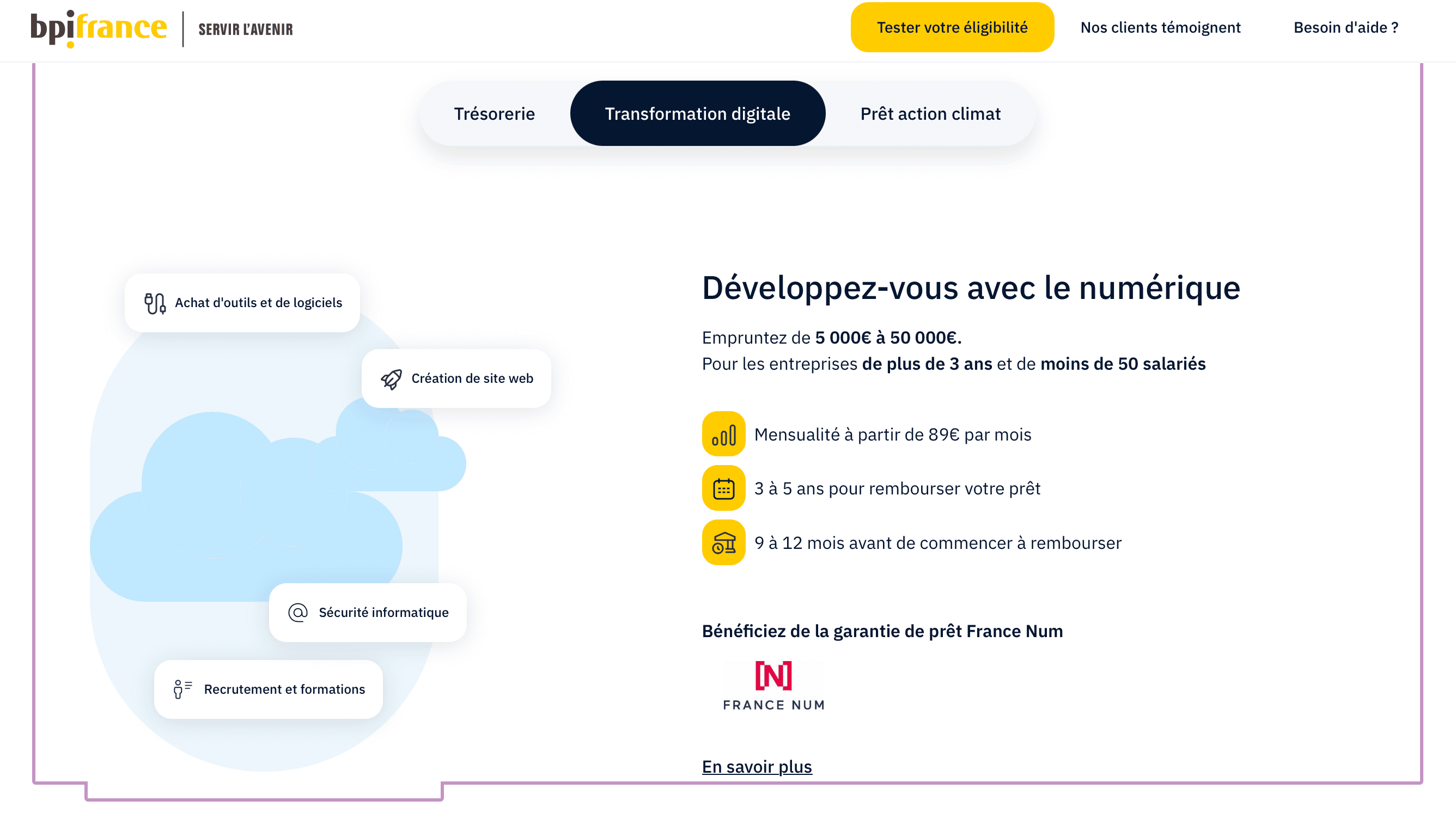 The in-work allowance for self-employed workers
The in-work allowance is designed to supplement the modest incomes of self-employed workers. It can be paid monthly or quarterly, and the amount depends on the self-employed worker's income and family situation.
Aid for Business Creation and Takeover (ACRE)
Unemployed entrepreneurs creating a business have access to Aid for Business Creation and Takeover (ACRE), which can take the form of social security exemptions, financial aid, or personalized support.
Unemployed entrepreneurs creating a business can also benefit from other aids to facilitate their establishment, such as assistance in finding the first client.
Business Creation and Takeover Support programs offered by the regions.
The Business Creation and Takeover support programs offered by the regions.
Crowdfunding
Crowdfunding is a method of raising funds from a wide online audience. Crowdfunding platforms such as Kickstarter, Ulule, and KissKissBankBank have become increasingly popular in the recent years. They are an excellent way to finance your project while maximizing its visibility.
As crowdfunding is highly competitive, you will need to make extra efforts to convince potential investors of the value of your project.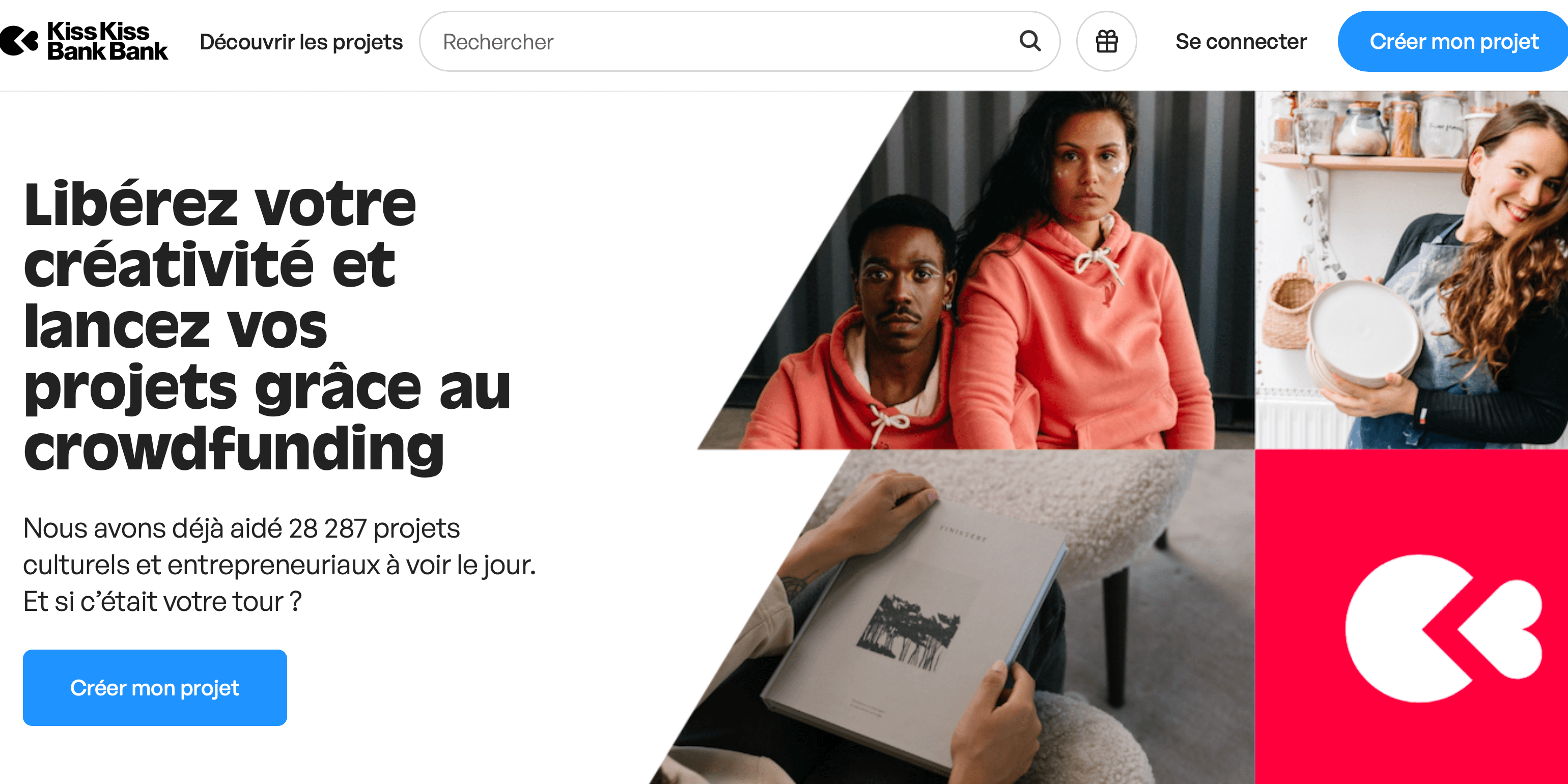 How to apply for these aids?
To benefit from the state's financial aids for creating your website, you will need to follow these steps:
Identify suitable aids: Begin by identifying the aids that best match your situation, as each aid has its own eligibility criteria.
Compile a dossier: You will need to provide documents to prove your eligibility for the aids. This can include business plans, quotes for creating your website, or other financial information like your annual income.
Follow administrative procedures: Once you've identified the aids you are eligible for, follow the necessary administrative procedures to apply. This usually involves online applications, interviews with counselors, or other administrative steps, depending on your case.
Conclusion: Quality website on a budget is possible!
Our financial resources often define our choices, but they should not be an obstacle. For example, beyond the €500 financial aid for businesses most affected by the pandemic, the French government is committed to accelerating their digital transition by providing them with tailored services. Specifically, this includes the implementation of essential features, such as online appointment scheduling, the creation of online sales platforms, and even click & collect systems.
Each region in France has established aid programs to support its residents in their digitalization efforts. Depending on your location and eligibility criteria, you too can benefit from comprehensive support for the design and realization of your digital project.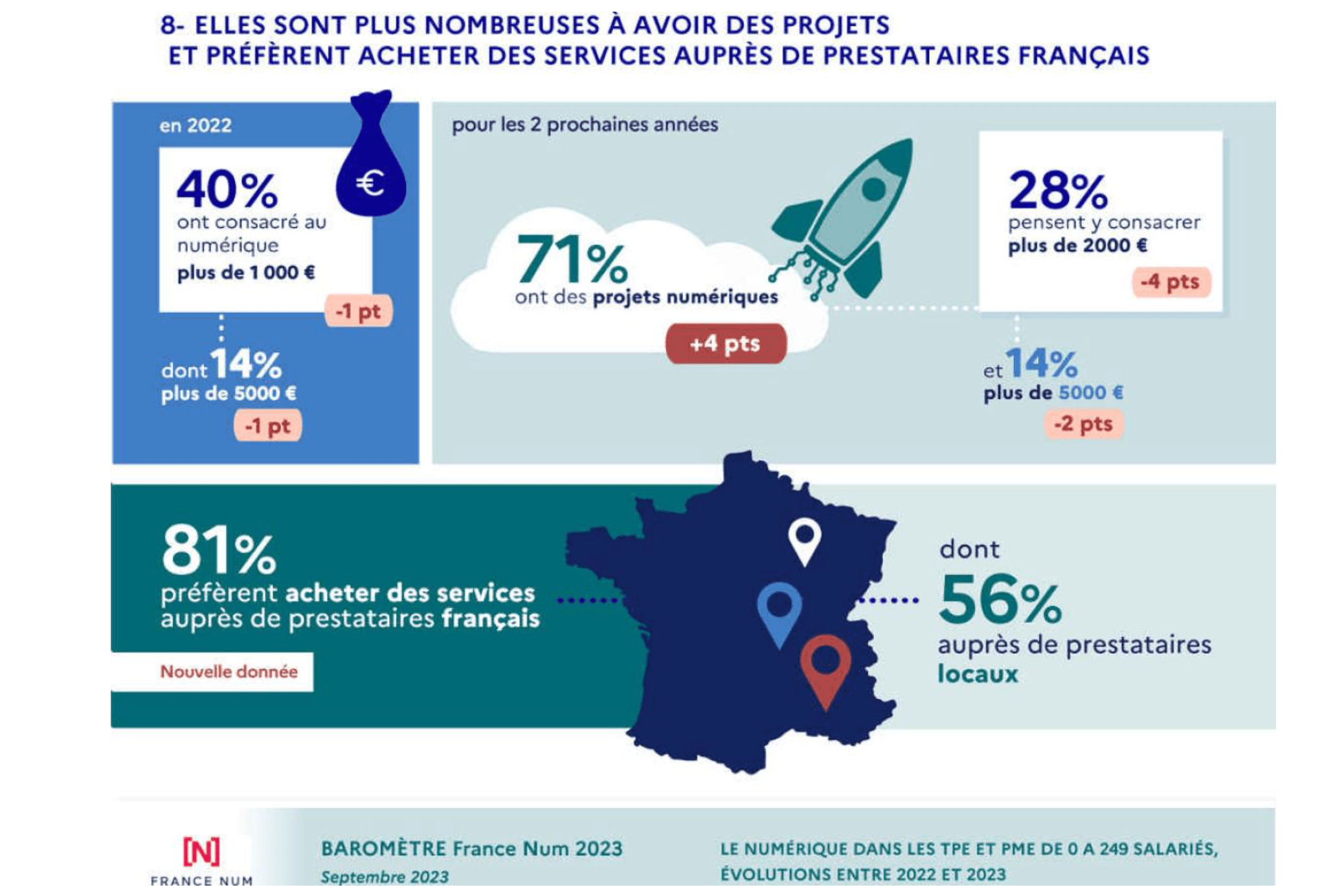 One smart tip is to create your website using a Content Management System (CMS) like WordPress or Wix. This way, you can save even more time and money during the creation phase, allowing you to invest them in your promotion campaign, for instance.
Finally, focus on the essentials. A successful website doesn't have to be overly complex. Opt for a simple and clean design that serves authentic and high-quality content. Smooth and enjoyable navigation will be your asset for converting visitors into loyal customers.
Ready to embark on your new digital adventure? Find out how much it costs to create a website.